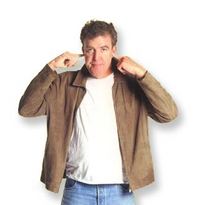 Or is it really phishing when the victim first broadcasts his bank account details?
BTop Gear presenter Jeremy Clarkson has admitted he was wrong to brand the scandal of lost CDs containing the personal data of millions of Britons a "storm in a teacup" after falling victim to an internet scam.

The outspoken star printed his bank details in a newspaper to try and make the point that his money would be safe and that the spectre of identity theft was a sham.

He also gave instructions on how to find his address on the electoral roll and details about the car he drives.

However, in a rare moment of humility Clarkson has now revealed the stunt backfired and his details were used to set up a £500 direct debit payable from his account to the British Diabetic Association.

The charity is one of many organisations that do not need a signature to set up a direct debit.

— Clarkson stung by fraud stunt, Guardian Unlimited, Monday January 7 2008
He admits he was wrong, but nonetheless tries to pin the blame partly on a privacy law:
"The bank cannot find out who did this because of the Data Protection Act and they cannot stop it from happening again," he said. "I was wrong and I have been punished for my mistake."
At least he doesn't call for revoking that Act; he does call for going after the perpetrators.
-jsq
PS: Seen on BoingBoing.