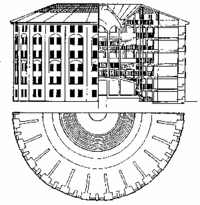 Fergie points out a university project investigating censorship:
The "Great Firewall of China," used by the government of the People's Republic of China to block users from reaching content it finds objectionable, is actually a "panopticon" that encourages self-censorship through the perception that users are being watched, rather than a true firewall, according to researchers at UC Davis and the University of New Mexico.

The researchers are developing an automated tool, called ConceptDoppler, to act as a weather report on changes in Internet censorship in China. ConceptDoppler uses mathematical techniques to cluster words by meaning and identify keywords that are likely to be blacklisted.

— University Researchers Analyze China's Internet Censorship System, News Report, Government Technology News, Sep 11, 2007
So the Great Firewall of China watches what users are doing by actively intercepting their traffic. Meanwhile, back in the U.S. of A., how about a passive web panopticon?
Continue reading