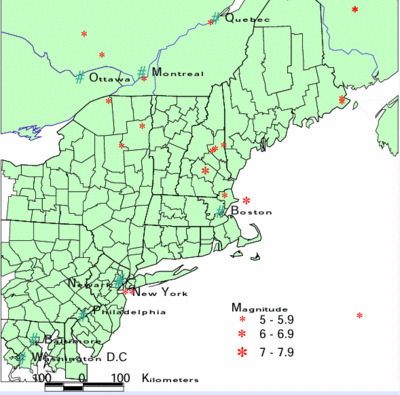 In addition to the possibility of hurricanes (the Long Island Express also went through Massachusetts) and tornadoes, does Massachusetts also need to worry about earthquakes interrupting baseball games?
For the second time this month an earthquake has hit Massachusetts.

NewsCenter 5 received numerous calls from people in the Groton, Westford and Littleton area. Residents said that they heard what sounded like a loud boom or explosion. Some said that they felt their homes shake.

The U.S. Geological Survey confirmed that an earthquake measuring 2.5 hit the region at about 1:30 a.m. Residents in Westford and Littleton also said that they heard rumblings at about 6:05 a.m.

— Earthquake Shakes Bay State, Residents In Route 2 Area Report Loud Boom, TheBostonChannel.com, 19 Oct 2007
Like hurricanes and tornadoes, it has happened before:
….a quake that shook Newburyport on Oct. 29, 1727. That was a 5.5 magnitude earthquake that was felt from Maine to Philadelphia.

— Bay State Residents Jolted By Ancient Earthquake, Quake Measured 1.8 On Richter Scale, TheBostonChannel.com, 10 Oct 2007
Are earthquakes as likely as tornadoes or hurricanes to cause damage in Massachusetts?
Continue reading