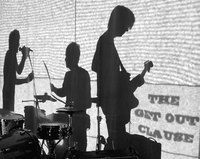 This is clever:
Unable to afford a proper camera crew and equipment, The Get Out Clause, an unsigned band from the city, decided to make use of the cameras seen all over British streets.

With an estimated 13 million CCTV cameras in Britain, suitable locations were not hard to come by.

They set up their equipment, drum kit and all, in eighty locations around Manchester – including on a bus – and proceeded to play to the cameras.

— The Get Out Clause, Manchester stars of CCTV. By Tom Chivers, Telegraph.co.uk, Last Updated: 6:54PM BST 08/05/2008
Then they requested copies of the coverage from the various companies and law enforcement organizations owning the cameras through the British Data Protection Act, and got enough to use. They even managed closeups.
So maybe there is a use for CCTV, even though it's failed at crime prevention. It's a huge arts subsidy program!
-jsq