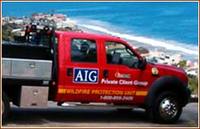 Of course it's AIG offering this:
In 2005 the loss prevention experts at AIG Private Client Group created the first-ever personal wildfire protection program. This groundbreaking service is available exclusively to AIG Private Client Group policyholders who reside in designated response zones in the western U.S.

— Wildfire Protection Unit®, Exclusively for AIG Private Client Group Policyholders, AIG Private Client Group, accessed 9 October 2007
If you guessed that Aspen and Vail were among the designated response zones, you guessed correctly! And Los Altos and Beverly Hills. Good old AIG: charge what the traffic will bear and see if there's a market.
They have a similar hurricane protection unit.
Continue reading