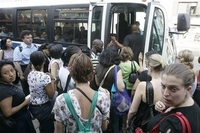 How soon they forget:
It wasn't just the tornado in Brooklyn — the first in recorded history in the borough — it was the huge quantities of rain that flooded basements and stranded rail and road commuters from Mineola to Midtown.

— End of the world as we know it? By Carl Macgowan, Newsday, 10:51 PM EDT, August 8, 2007
Sounds kind of like "who could have predicted it?"
Continue reading