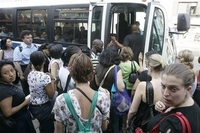 How soon they forget:
It wasn't just the tornado in Brooklyn — the first in recorded history in the borough — it was the huge quantities of rain that flooded basements and stranded rail and road commuters from Mineola to Midtown.

— End of the world as we know it? By Carl Macgowan, Newsday, 10:51 PM EDT, August 8, 2007
Sounds kind of like "who could have predicted it?"
Even though it has happened before, in 1889, with smaller ones in other NYC boroughs in between, as Newsday had already reported earlier that same day.
There was flooding. Including, I hear, Fox News.
…so Fox News flooded? No kidding. Are the people working to clean it up being captioned as looters or scavengers? Have their neighbors set up a roadblock yet to keep them from getting out and terrorizing decent people who have the misfortune to live nearby? Are their affiliates broadcasting stories about how it's their own fault for not getting out in time? I want to hear more about this.

— Greater NYC floods Comment #4, by Teresa Nielsen Hayden, Making Light, August 08, 2007, 01:17 PM
And it's not just this one tornado that shuts everything down, subways, busses, cars:
"One big rain and it all falls apart," said Ruby Russel, 64, as she sat waiting on a train in Brooklyn. She had been trying to get to Manhattan for three hours.

The failure renewed a debate about whether the network of pumps, sewers and drains that protects the city's subways from flooding needs an overhaul. Every line experienced some sort of delay as track beds turned into streams gurgling with millions of gallons of rainwater. The washout was the third time in seven months that the subways were disrupted by rain.

Metropolitan Transit Authority engineers were asked to report back to Gov. Eliot Spitzer within 30 days with suggestions about how to deal with the chronic flooding.

"We have a design issue that we need to think about," Spitzer said.

— Rain cripples New York City transit, (AP) Updated: 2007-08-09 09:47
When will we hear calls to move NYC, like we heard to move New Orleans, considering there was also a major hurricane in NYC as recently as 1938?
And why did nobody ask the insurers whether this kind of weather and flooding could happen here, even though Allstate already wasn't writing any new homeowner policies for NYC or Long Island?
-jsq