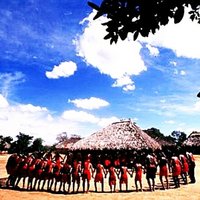 Can't pass up an article with "Peril" in its title:
"I don't think it's a good thing, because it's a threat to our culture," said Tsereptse, who carries a bow and arrow with him at all times as a symbol of his position.

Some of the tribe's younger members have been trying to convince Tsereptse that computers will have the exact opposite effect — that they can be tools to record and preserve Xavante folklore and traditions, and to disseminate them all over the world.

— Awaiting Internet Access, Remote Brazilian Tribes Debate Its Promise, Peril,By Monte Reel, Washington Post Foreign Service, Friday, July 6, 2007; Page A08
These are members of the Xavante tribe in Mato Grosso state in Brazil. They don't have electricity yet, but they've decided to get Internet access. Why?
Continue reading