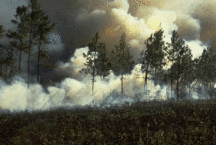 It looks like technological security isn't the only kind disorganized in government. The latest GAO report about wildfires seems like more smoke than fire:
This testimony summarizes several key actions that federal agencies need to complete or take to strengthen their management of the wildland fire program, including the need to (1) develop a long-term, cohesive strategy to reduce fuels and address wildland fire problems and (2) improve the management of their efforts to contain the costs of preparing for and responding to wildland fires.

…

For cost-containment efforts to be effective, the agencies need to integrate cost-containment goals with the other goals of the wildland fire program–such as protecting life, resources, and property–and to recognize that trade-offs will be needed to meet desired goals within the context of fiscal constraints.

— Wildland Fire Management: A Cohesive Strategy and Clear Cost-Containment Goals Are Needed for Federal Agencies to Manage Wildland Fire Activities Effectively, GAO-07-1017T, U.S. General Accounting Office, June 19, 2007
How about a strategy for integrating wildfire planning into subdivision planning, or cost allocations from homeowner wildfire insurance?
Continue reading