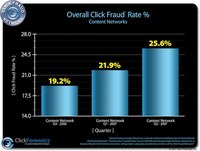 Here's another company detecting effects of botnets:
The Click Fraud Index™ monitors and reports on data gathered from the Click Fraud Network™, which more than 4,000 online advertisers and their agencies have joined. The Network provides statistically significant pay-per-click data collected from online advertising campaigns for both large and small companies.

…

"We're not surprised to see the industry average click fraud rate climb this quarter as a result of botnet activity," said Robert Hansen, CEO of SecTheory and one of the industry's leading experts in online security threats. "Our clients are well aware that botnet activity is on the rise and that botnets are being used for a variety of online fraud activities, including click fraud."

— ClickFraudNetwork accessed 16 August 2007
They claim the country originating the most click fraud is France, followed by China. However, it would be more useful to show which ISPs are originating most click fraud, i.e., which ones are most infested by botnets. Countries are too big and too slow to have much of a chance of doing something about this. ISPs can.
-jsq